Microsoft Wireless IntelliMouse Expl Mouse Immersion
Regular price $ 44.99 $ 19.99 56% OFF
This special price ends in :
Microsoft M03-00059 Wireless Intellimouse Explorer with Tilt Wheel Immersion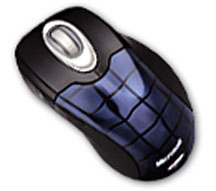 Useful wireless mouse in a cool looking finish!
This is a new overstock item from Microsoft. It comes packaged in a non retail box.

CNET

Editors' Choice Award
with 30 day unconditional guarantee
Features:
Designed by ergonomic experts for your comfort.
Longer battery life many users average more than 6 months battery life
5 Programmable Buttons
Wireless no mouse cord or recharging station!
Microsoft Wireless IntelliMouse Explorer with Tilt Wheel Technology makes scrolling easier, smoother, and faster than ever.

Tilt Wheel Technology




Scroll every which way. Now you can scroll horizontally as well as vertically through documents and Web pages. The entire wheel tilts, acts as a button, and reacts smoothly to your speed.

Smart Receiver




Work wirelessly without intrusion. Take advantage of smart technology that automatically detects interference, so you don't have to worry about interruptions.
Wireless Freedom




Experience the convenience of wireless keyboards and mouse products, and say good-bye to clutter.

Three-Times-Longer Battery Life




Finally, a solution to the top wireless hassle now you can work longer without interruption. Many users experience a half year of battery life!
Ergonomic Design
Every Microsoft® hardware product has met the company,s rigorous testing requirements for unparalleled comfort and performance. Ergonomic design is important for more than productivity how you type, point, and click can also affect your long-term health.
Includes:
Mouse and USB Receiver
Specifications:
For a Microsoft® Windows®-based computer:
Computer/Operating System
One of the following:

Windows XP Home Edition or Professional with a Pentium 233 MHz or higher processor and 128MB of RAM
Windows 2000 Professional or Server with a Pentium 133 MHz or higher processor and 128 MB of RAM

Hard Disk Space
60 MB of available hard-disk space
Connectivity

For the mouse:
an available PS/2 mouse port or Universal Serial Bus (USB) port

Other

CD-ROM drive
Microsoft Internet Explorer version 5.0 or later to view Help files
For a Macintosh-based computer:
Computer/Operating System
Mac OS X version 10.1 to 10.2.x (excluding 10.0)
Hard Disk Space
30 MB of available hard-disk space
Connectivity
An available Universal Serial Bus (USB) port
Other
CD-ROM drive
people are currently looking at this product
Estimated delivery time 14-30 days